Half Of Australian Small Businesses Don't Have A Website - Surely Not!
A recent Telstra report suggests that only 50% of small businesses in this country have a website. Surely this can't be true!
The 2018 Telstra Small Business Intelligence Report surveyed the marketing strategies of more than 1,000 Australian small to medium sized businesses and the report also suggests that 62% of customers will stop considering a small business if they can't find information about it online. The report also found 83% of customers believe using search engines is 'important' or 'very important' when finding a business and 47% of customers under the age of 40 report using a search engine to find or research a small business at least once a day. If this is the case, these results serve as a warning to half of Australia's small business owners.
Hinge Marketing, who specialise in marketing for professional service firms, provide even more compelling evidence regarding the importance of websites for architects, engineers,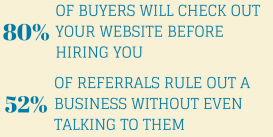 solicitors, accountants and consultants. Their research says 80% of professional service 'buyers' check out your website before engaging your services. Incredibly, they also suggest that 52% of referrals rule out a firm before they even talk to them. Why? Because their website makes the wrong first impression and doesn't spell out how they can help them. That means you might be getting referrals from satisfied clients but when they check out your online presence it's a wipe out. You won't even know that you got the referral because the person didn't reach out to you. You might work super hard to get referrals only to find your website (or lack thereof) has shot you in the foot.
Business owners clearly think differently to their customers. In fact, 76% of the business owners surveyed claim word-of-mouth is responsible for driving the most new sales, while, 48% of consumers surveyed said they would stop considering buying from a business if it did not have a website. The business landscape has changed and entire industries are being massively disrupted and transformed. Without a lead generation website, you are missing opportunities including even warm referrals.
Clearly you need to shift your marketing focus online and the survey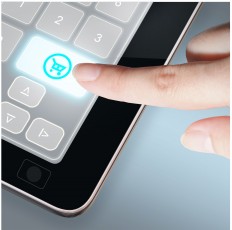 also highlighted the importance of e-commerce websites being mobile responsive. Of those surveyed, 48% say they shop on a mobile device at least once a week while a third of the e-commerce businesses surveyed reported not having a mobile-friendly website. A responsive website automatically reformats the look of the website to fit the dimensions of the device it is being viewed on. With the statistics telling us that mobile searches are about to overtake searches on desktops and laptops, then a mobile responsive website is a must have. If you still need convincing, in 2015 Google began rewarding websites that were fully optimised for mobile platforms and they now use mobile friendliness as a ranking signal in their search results. Google have also implemented mobile-first indexing that bases ranking and indexing from the mobile version of a site, not the desktop version.
Other results suggest only 26% of small business owners use SEO (Search Engine Optimisation) tactics to reach more customers on platforms such as Google. More than half of the businesses surveyed said they do not intend to use SEO tactics, while 72% said search engine marketing (SEM) does not currently form part of their plans. These techniques can be time consuming, however, the rewards are high and an improved search engine page ranking can significantly impact on your website traffic and sales. Another tactic that consumers and business owners disagree on is online chat features with 28% of consumers interested in using the online chat feature but only 9% of businesses are interested in the practice.
So, what is the purpose of your website?
The purpose will probably change based on who your intended target is and some websites are geared towards showcasing products and services while others are geared towards providing practical information. Clearly, not every visitor to your site is ready to buy and visitors are at different stages of their buying journey. Some are browsing and researching while others are lo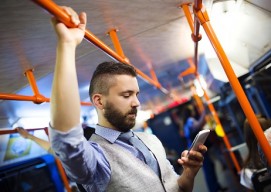 oking for 'social proof'. As such, you need to design your website with the visitors' experience in mind. I'm sure you're familiar with the expression 'content is king' and content now comes in many different forms including video, audio, e-books, case studies, newsletters, infographics, checklists, photos and blogs. The content should engage with your ideal type of customer and be visible to the search engines so it ranks well with Google.
As accountants, we believe your website's ultimate purpose is to create new customers and revenue. It is the hub of your marketing activities and in 2018 your website could be the difference between, gloom, doom and boom. It tells and sells your story 24 hours a day, seven days a week, 365 days a year.
If you were to critique your website today would it tick all these boxes?
| | |
| --- | --- |
| | Does your website work equally as well on mobile phones and tablets as it does on laptops? |
| | Does your site contain remarkable content that targets your ideal type of customer? |
| | Does your home page precisely spell out what you do? |
| | What do you want prospects to do when they land on your home page and do you have 'calls to action' prompting them to take that course of action? (Call now, order a free sample, download a demo, get a free quote etc.) |
| | Do you have video content? |
| | Do you see a site that is easy to navigate? |
| | Do you have social proof and customer testimonials? |
| | Do you provide a variety of offers for people at different stages of the buyer journey? |
| | Are your pages written with keywords in mind and do they answer the questions that searchers are asking? |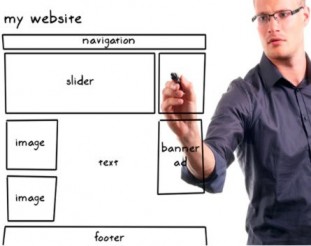 If not, it could be time for an upgrade or a makeover. Microsoft and Google both say that visitors will spend no more than 10 seconds on your site before they hit the back button. As your primary marketing tool, your website's purpose is to generate leads, new customers and revenue. You should treat your website as an investment not a cost and remember, it will always be a work in progress.
Click HERE to download the full edition of The Business Accelerator Magazine for March 2018.
---
Other Articles in this Edition: