Our Staff
Our team are dedicated to providing you and your business with personalised professional services. All our team members are committed to ongoing professional development so you enjoy the best technical tax and accounting advice available. Below are the profiles on our team members.
LINDA McGOWAN - Principal
Linda McGowan is the Principal of the firm and before joining the public accounting sector she commenced her career as a junior accountant with a large corporation. In 1991 she ventured out as a sole practitioner and commenced operations in Preston in the northern suburbs of Melbourne.
She understands that running a business can be a roller coaster ride and from the outset she dared to be different. Her passion for small business is infectious and Linda says, "There is a real sea of sameness about traditional accounting firms who are very focussed on tax returns and compliance. We see the tax return as the start of the client process not the end because small business owners really want to grow their revenue, profits and wealth. Sure they need to do tax returns but they want strategies to grow their business and their wealth".

Linda recognises the entrepreneur's challenge of converting adrenalin into profit. She maintains that if you want to grow your business you need to have solid foundations which explains why she advocates you always, "begin with the end in mind". As such, she insists clients have the right business structure (to protect their assets), the correct software (to minimize compliance costs) and an understanding of the 7 ways to recession proof a business. Linda's objective with her clients is to solve their tax and financial problems, help them to capitalise on opportunities and ensure they avoid the pitfalls. "Our goal is to be very knowledgeable about our clients' businesses and understand their specific industry issues. This helps us develop strategies and select the right tools to help them with their business planning and wealth creation plans."
As Linda says, "Clients come to us looking for solutions to their tax, management accounting, succession planning and cashflow problems and we speak a language our clients understand. We really help business owners understand their numbers, improve their results and help them spend more time working ON their business rather than working IN their business". Her mission includes giving business owners a competitive edge and her marketing expertise is a major point of difference compared to other accountants. She gets involved in clients' branding, websites, SEO, niche market strategies and social media presence.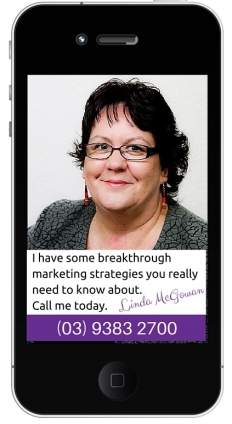 Her tenacity to help clients and ability to inspire positive change is what makes Linda different. Over the years she has personally mentored hundreds of business start ups and Linda and her team developed the 'Business Accelerator Process' to specifically help new business owners fast track their success. Her focus is to help business owners grow their revenue, profits, business value and wealth. "You need to set goals, develop a strategy and formulate a game plan. Most importantly, you need to implement which necessitates systems and discipline". Her 'big picture' approach coupled with her ability and willingness to work in a hands-on capacity to achieve the best outcomes for clients is a real point of difference. Linda wants to help clients create wealth using tax effective strategies like negative gearing and superannuation which explains why a number of her clients own an investment property or have a self managed superannuation fund.
Linda has a real affinity with the local business community and she invests heavily in professional development to maintain her knowledge. Her caring nature and ability to translate technical tax matters into 'real world' advice has seen the practice grow significantly over the past few years. Not only that, her passion has seen the practice develop niche areas including the trades, business start ups, hospitality, negative gearing, musicians and artists plus self managed superannuation funds. You can read about these niches in the 'industries we serve' section of this website.
Experience and Specialties
Linda's specialist technical skills include tax planning, business structures, consulting and business planning. She is passionate about the success of her clients and specialises in succession planning, asset protection, cash flow management and business analysis. Her 20 years experience in public accounting provides Linda with a deep understanding of the compliance and taxation needs of clients in the small business sector.
Her professional qualifications and memberships include:
CPA Australia
Bachelor of Business (Accounting)
Registered Tax Agent
Public Practising Certificate
Outside the office she can be found at the gym, at the movies or relaxing at home reading the latest murder mystery novel. She is a passionate St Kilda supporter and loves to cook in her spare time. Linda and her husband enjoy travelling, live music, gardening and spending time with family and friends. Her husband Doug still plays in a rock band and while her 'groupie' days are behind her she is a regular at live concerts with a real love of 80's Australian bands. As a long suffering St Kilda Football Club supporter she has a vintage bottle of port waiting to be opened when the Saints finally win that elusive premiership. They live in the local area and enjoy the eclectic mix of restaurants, cafes and shopping in Brunswick.

Linda McGowan - Strategies & Solutions for Business Owners