Employment Vacancy
SENIOR ACCOUNTANT - MINIMUM 6 YEARS EXPERIENCE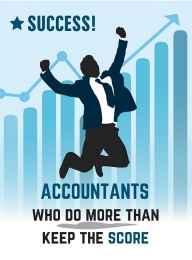 Are you looking to join a unique firm of CPA's?
As you'll see from our website we are very different to most accounting firms and we do more than just keep the score for our clients. We want to help our clients grow their business, their profits and their wealth.

In many cases we get involved in our client's marketing to help them grow their business. That can include anything from website development to SEO, videos, social media campaigns and content development. Over the past few years our growth has been phenomenal and we truly believe business owners want more than just tax returns and compliance from their accountant. They want strategies to grow their revenue, profits and their wealth.

To cope with the growth we seek a Senior Accountant with a minimum of 6 years experience in public practice. Applicants will not be considered with less than this level of experience.
You will be joining an innovative and pro-active accounting firm based in the inner northern suburbs of Melbourne who primarily service the accounting, tax, consulting and marketing needs of SME's. You will need to have the skills to finish compliance jobs and have the confidence and experience to consult with clients about tax and accounting matters. You'll get access to some unique training beyond tax and you'll get exposure to a broad range of industries. This role also includes managing some junior staff.
If you're looking for a career in accounting and business advisory this is what we offer:
Not Your Average Accounting Firm who Just Keep the 'Score'

Predominantly Small and Micro Business Client Base

Professional, Friendly Environment fuelled by New Business Clients almost Every Day!

Lots of Autonomy and Responsibility

Quality and Ongoing Professional Development

Accounting/Commerce Degree and CPA or CA Qualified

Minimum 6 years Experience in Public Practice
Hard work and dedication are recognised, valued and rewarded with excellent working conditions. We offer an excellent range of on-going professional development options with flexible working conditions that provide a suitable work/life balance. To secure the role you will be experienced in and responsible for the:
Preparation of Financial Statements and Income Tax Returns for Individuals, Partnerships, Companies, Trusts and Superannuation Funds

Preparation of BAS and IAS

Preparation of FBT returns

Preferably experienced in Xero, MYOB and Cashflow Manager

Ideally experienced in Handiledger
The successful candidate should:
Be energetic, adaptable and possess outstanding people skills

Enjoy the challenge of a busy, professional environment

Want more than just a job preparing tax returns - it's a career person we require

Be computer literate with a good knowledge of the MS Office suite

Be hard working, professional and have an eye for detail

Be experienced and comfortable training and overseeing junior staff and their work
There is a clear career path for this enthusiastic 'go-getter'. We take pride in making a difference with our clients and you will have a high degree of autonomy and responsibility. You will need to communicate clearly and confidently with clients and be proactive with the ability to drive a job from start to finish. Your role will also entail providing guidance, training and assistance to junior staff including reviewing their work.
If you want a high level of client contact and a variety of challenging assignments, this is an outstanding career opportunity in a supportive and stimulating environment.
To apply for this position email your CV to linda@lindamcgowan.com.au